"Oku-Shiga Heights", Highland resort in Nagano
Prefecture.
"Oku-Shiga Heights" is a special place surrounded by
nature reminiscent of the highland resort of Europe.
Winter "Oku-Shiga Heights" is one of the leading ski
resorts in Japan. Summer, many people spend as a
summer resort, it has been popular as a place to
experience the nature of "Oku-Shiga Heights".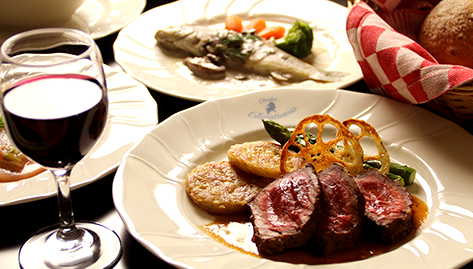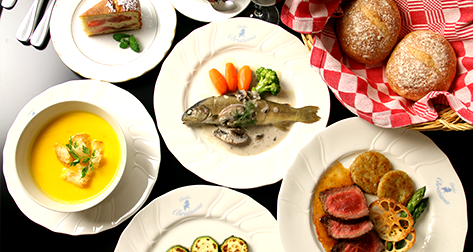 Here there is a time that flows slowly different from
the day-to-day life, it has been wrapped in fresh air
of the highland.
"Nature's bounty" is luxury that can't be tasted in
the city life, "Oku-Shiga Heights" has it.
Please forget the time and forget the stress and
enjoy the bliss time to spend with loved ones while
enjoying a delicious meal.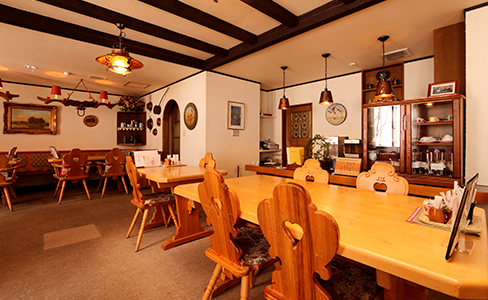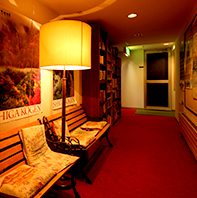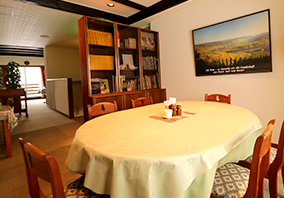 ---
Autumn, you can see the autumn colors of the unique
to Japan.
Chalet Christiania is a peaceful and homely inn, wrapped
in a nature of "Oku-Shiga Heights".
Dishes provided by inn is the Austrian home cooking.
Full-course meal that was arranged with local ingredients.
Our hotel is decorated in the mountain lodge-style, there
is well-selected furniture. You will enjoy the atmosphere,
and stay more comfortable.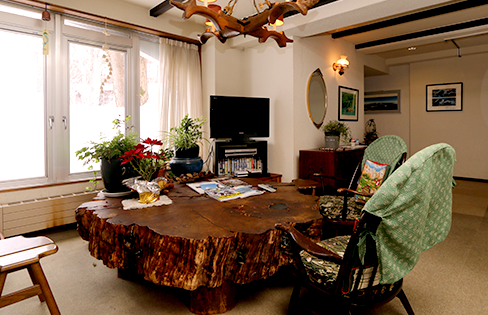 ---


We are pleased to offer a variety of rooms to suit the needs of the hotel guest.
There are bunk bed-style room. There is a nice attic-style room that can look at the starry sky.
Of course, there is also a normal bedroom.
Room names we use the place names that history of the Winter Olympics were held.
Do you remember how much the venue of the Winter Olympics?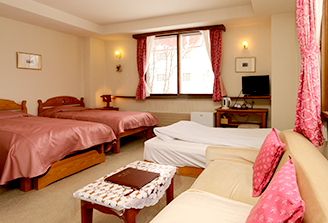 This twin room took the slightly larger space. Rooms that put an extra
bed, can stay up to 4 people.
From the window you can enjoy the beauty of the four seasons of
"Oku-Shiga Heights". Relax please.
---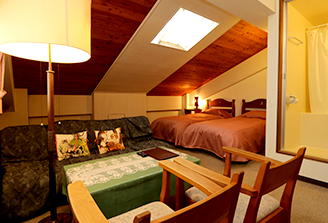 There is a skylight in the ceiling, The room feel the attic atmosphere.
Full moon night, moonlight comes in from the skylight. That makes
the room nice atmosphere.
It is a popular room. Rooms that put an extra bed, can stay up to
4 people.
---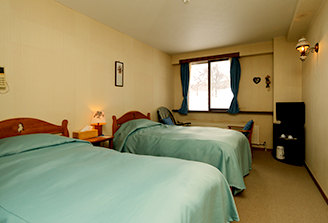 It is a simple twin room.
Standard room are two rooms. There is one room with bath and toilet,
other room have no bath and toilet.
This room can accommodate even one person.
---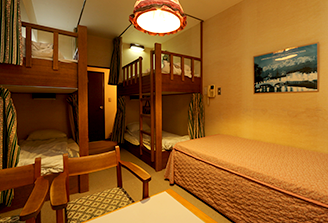 Room for family members can stay in family, there are two types.
The room with a bunk bed, that is able to stay up to four people, and
small children can stay safely at Japanese-style room.
---

Basic rate (adult)
 ※1 night 2 meals
 [include dinner and breakfast.]
9,800yen ~
Basic rate (children)
70% of the adult rate
Bedding use fee(Infant)
2,170yen
Facility use fee(Infant)
1,550yen
※Fee table is an example.
※Rates by dates will change.
※For more information, please contact us.
Credit cards accepted
American Express, VISA, Diners Club, Master Card, JCB
Cancellation Charge
•If cancelled up to 15days before date of arrival, no fee will be charged.
•If cancelled 14 to 5days before date of arrival. 20 percent of the
 first night will be charged.
•If cancelled 4 to 2days before date of arrival. 30 percent of the
 first night will be charged.
•If cancelled in the day before arrival. 50 percent of the first night
 will be charged.
•If cancelled in arrival day, or In case of no-show. 100 percent of the
 first night will be charged.
Check in / out
14:00~18:00 / ~10:00
Parking
Free/space for max 15
---
---